Sorry, password zealots, but Netflix now recommends you change your password after implementing some controversial new rules. The well-known streaming service has, for many years, made it possible for individuals who reside in the same household to access a jointly held Netflix account by using the same login information. This has been made possible through features such as profiles and multiple streams.
According to Netflix, this has had a negative influence on the firm's income and, as a result, its "ability to invest in great new TV and films." While this has made things simpler for customers — more specifically, the more than 100 million households who share accounts now — the company claims that it has made things more difficult for them. As a direct consequence of this, Netflix has made it more difficult to share login credentials. Since December 2022, when sources first alluded to the possibility of a ban on password-sharing, the impending crackdown in 2023 has been a looming threat. (In March of that year, Netflix made the announcement that it will be testing the new service abroad.)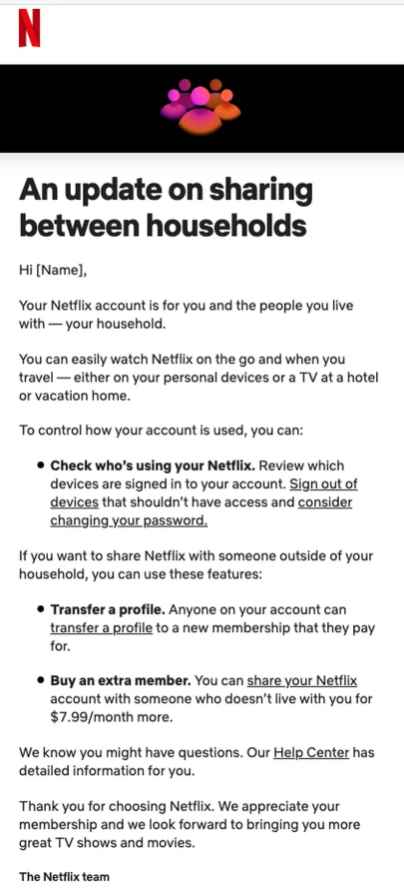 It used to be that "sharing is caring" for Netflix users (remember when the company tweeted about it in 2017? ), but because there are now more competitors in the streaming space, such as Disney+ and Hulu, Netflix's earnings projections have become a little more pessimistic, which has forced the company to look for new ways to bring in new subscribers. The regulation of Netflix's password-sharing function for users of the streaming platform was revealed on May 23 in a blog post by the streaming service. Members who share a Netflix account with viewers who are not living in the same home can anticipate receiving an email advising them of the news.
Members who share an account with persons who live in the same household will not be impacted by the law regarding the sharing of passwords, regardless of whether they are at home or traveling. Viewers in this situation will be provided services such as "Transfer Profile" and "Manage Access and Devices" in order to maintain account sharing. On May 23, Netflix said that it will be sending emails to consumers in 103 countries and territories about account sharing. These countries and territories include the United States, Britain, France, Germany, Australia, Singapore, Mexico, and Brazil.
On the other hand, substantial adjustments are going to be made for customers who share a Netflix account with viewers who live outside of their home.
The prohibition on sharing Netflix passwords will not be lifted permanently, but users are no longer able to use the service without paying a fee. Netflix accounts will now be charged an additional $7.99 per month if the user intends to share access with viewers who are not living in the same home. (At this time, the most basic account that is not funded by advertisements is $9.99 a month.)
Netflix strongly recommends that account holders change their passwords or sign out of all of their devices to avoid having to pay the shared-password cost for accounts that are used by people who do not live in the same home as the account holder. Both of these choices can be found on the Netflix website.
According to the email that Netflix issued to account holders, if the account owner wants to add more members to their account — especially those who don't reside in their home — they may "buy an extra member" for "$7.99 per month or more." This option is available if the account owner wants to add extra members to their account.
In the event that owners are not prepared (or are unwilling) to pay the additional fee for an out-of-home viewer, the modifications provide the ability to kick users off of the current account by following the guidelines under the "transfer account" part of the new system. The "borrower" of the account will be prompted to join up for their own membership as a result of this.
Due to the fact that Netflix's normal monthly package is $15.49, the cost of a membership is increased by over fifty percent when an additional user is added to the account.
Getting Around The Crackdown on Sharing Netflix Passwords
The new restrictions regarding the sharing of passwords include device verification as one of the mechanisms that enables devices located in locations other than the main account's residence to stream content. Verifying the existence of a device is required under Netflix's existing account sharing restrictions, and it was first thought to be a part of the company's new policy until it was withdrawn. It is possible that you may be asked to share a code with the other person rather than a password.
Connect to the wifi at netflix account owner house.
To begin, devices that are able to connect to the wifi in your home are deemed acceptable for usage with Netflix. This was discussed before. Therefore, if you are able to do so, travel to the residence of the person whose account you use, sign in on the device or devices that you want to use, and then return home; you should then be able to watch without any problems. It's possible that Netflix may ask you to reconnect at some time in the future, but given how recently the change was implemented, we'll have to wait and see how well it goes over, as well as how much longer you might be allowed to continue streaming content. (As of right now, there is nothing in the Help Center concerning being required to verify your location after being away from the home for a certain amount of time.)
Avoid watching Netflix on a television or other streaming device.
If you don't watch Netflix on a smart TV or via a streaming box like a Roku or Apple TV, you don't need to designate a household for your account. This is the second way to get around Netflix's regulation, and it's made possible by a policy flaw that the company has.
As long as you continue to stream content to devices such as smartphones, tablets, and computers, you should not notice any differences in the experience. You could even cast the display from your phone to your TV (or connect your laptop to your TV using an HDMI connection) to enjoy the experience on a larger screen without having to pay an additional monthly charge.
Information security specialist, currently working as risk infrastructure specialist & investigator.
15 years of experience in risk and control process, security audit support, business continuity design and support, workgroup management and information security standards.