Both CloudNordic and AzeroCloud, two hosting services based in Denmark, have been hit by ransomware attacks, which have resulted in the loss of the vast majority of client data and compelled the hosting providers to take down all of their systems, including websites, email, and customer websites.
Both businesses have confirmed that the attack took place on the previous Friday night and are part of the same parent company. Despite this, the operating situation of the company as of today is still very difficult, with the IT professionals of the company only able to restore certain servers but not any data. Unfortunately, the process of restoring the system and the data is not proceeding as easily as CloudNordic had hoped, and the company reports that many of its clients have lost data that does not seem to be recoverable. According to comments made by the hosting provider, several of the company's servers were infected with ransomware, despite the fact that these servers were secured by firewalls and antivirus software.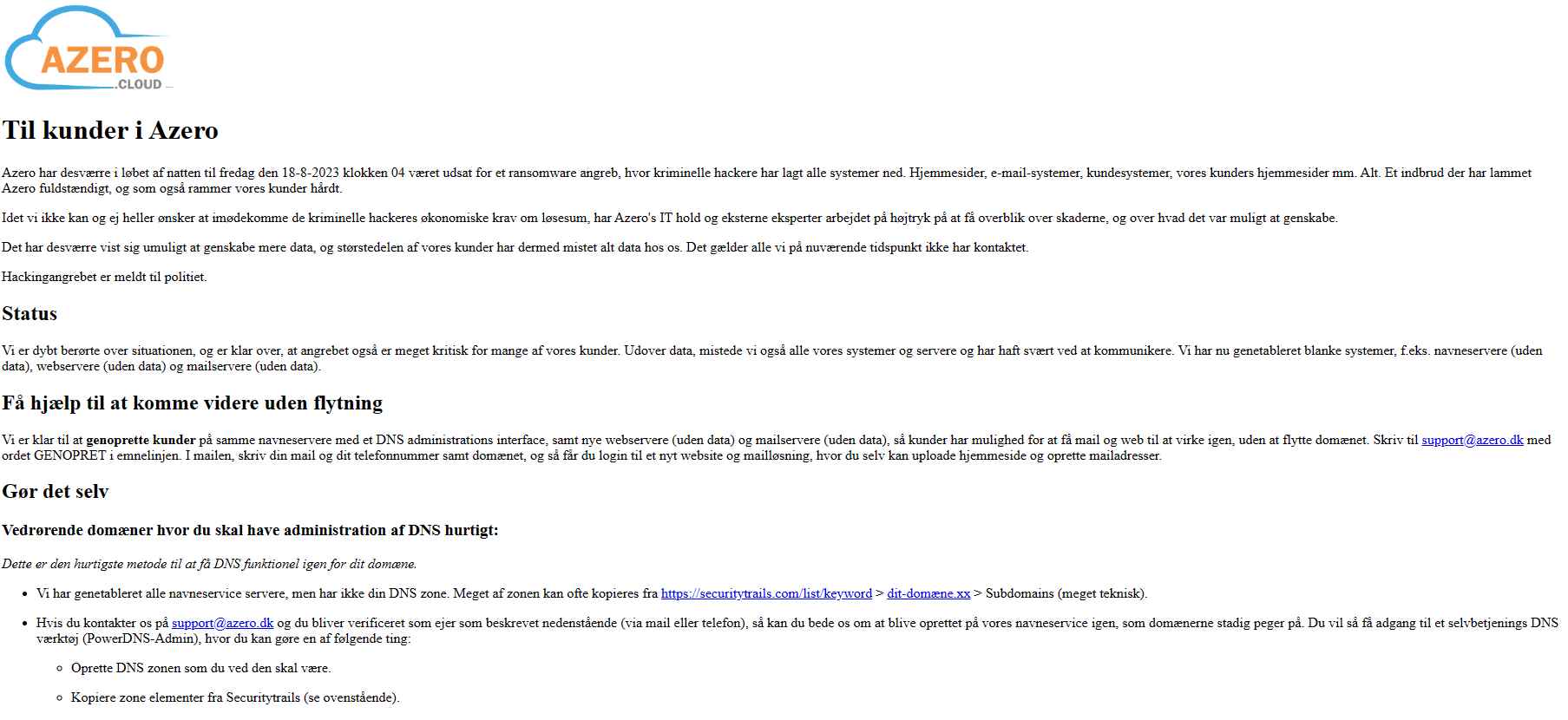 Those servers were linked to the wider network during the move of the data center, which gave the attackers access to all essential administrative systems, all data storage silos, and all backup systems.Next, the adversaries corrupted everything by encrypting all of the server disks, including the main and secondary backups. This rendered any possibility of data restoration impossible. According to CloudNordic, the attack only included the encryption of data, and the information that was gathered suggests that none of the data stored on the devices was accessed or stolen in any way. Having said that, there is no indication that there was a data breach.
CloudNordic's IT staff and other specialists have been working diligently to analyze the damage and identify what may be retrieved since we are unable or unwilling to pay the criminal hackers' demands for a ransom.
As per company "Unfortunately, it was not possible to recover any additional data, and as a result, the vast majority of our customers have lost all of the data that they stored with us."
Information security specialist, currently working as risk infrastructure specialist & investigator.
15 years of experience in risk and control process, security audit support, business continuity design and support, workgroup management and information security standards.