El equipo de seguridad de WordPress anunció la corrección de múltiples vulnerabilidades en el popular plugin Popup Builder – Responsive WordPress Pop up – Subscription & Newsletter. Acorde al reporte, estas fallas podrían ser explotadas para desplegar toda clase de tareas maliciosas en los sistemas afectados. Popup Builder cuenta con más de 200 mil instalaciones activas y permite a los administradores de sitios web la creación, personalización y administración de ventanas emergentes y newsletters.
Las fallas fueron reportadas al sistema de gestión de contenido (CMS) por la firma de seguridad WebARX, cuyos investigadores mencionan que estos problemas existen debido a la falta de autorización en la mayoría de los métodos AJAX y afectan a todas las versiones del plugin anteriores a 3.71.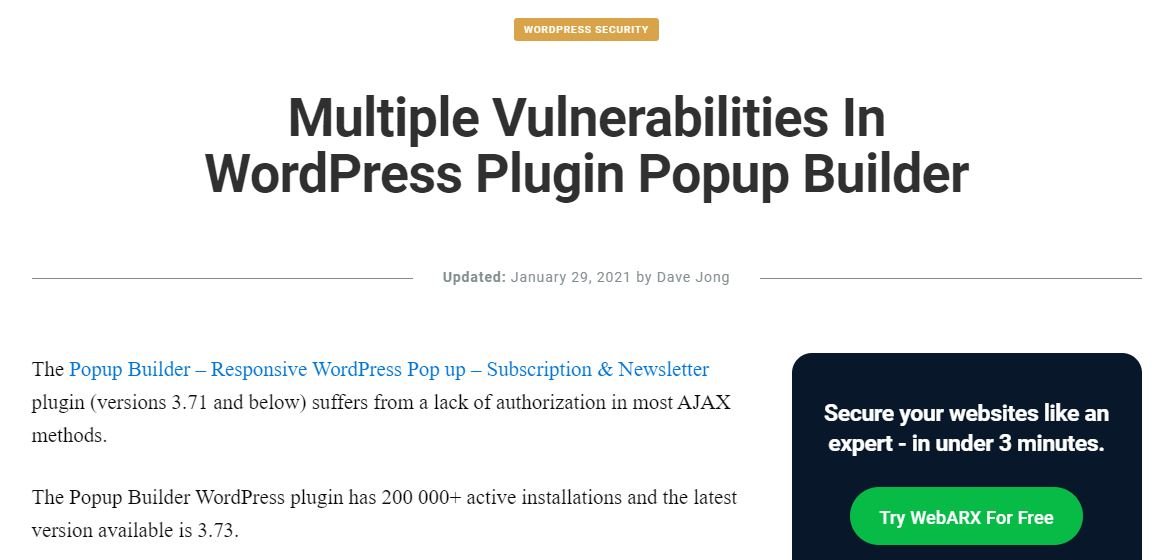 En caso de explotación, los actores de amenazas podrían enviar newsletters cargados con cualquier clase de contenido, desencadenando la inclusión de archivos locales para agregar o eliminar suscriptores al newsletter, entre otras labores maliciosas.
"AJAX es incapaz de verificar la capacidad de usuario, incluso usando su método para la verificación del plugin incluido. El plugin posteriormente podría realizar la verificación de un token nonce por lo que cualquier usuario, sin importar sus capacidades, podría pasar la verificación y ejecutar los métodos de AJAX vulnerables, pues el token nonce se envía a todos los usuarios," menciona el reporte.
Aunque los investigadores publicaron algo de información sobre los métodos vulnerables, no se revelaron detalles adicionales debido a la posible explotación activa de estas fallas. Los investigadores incluso mencionan que uno de los métodos vulnerables podría ser explotado por un usuario autenticado para enviar documentos potencialmente maliciosos a todos los suscriptores del newsletter de una organización.
El reporte concluye mencionando que, para explotar las fallas, los usuarios deberán iniciar sesión y acceder al token nonce, aunque un ataque exitoso también podría comprometer el estado de seguridad del sitio web por completo.
Los desarrolladores del plugin recibieron el reporte a finales de 2020. Apenas unos días después se anunció una primera ronda de parches de seguridad incluidos en la versión 3.71. Las correcciones completas están disponibles en v3.72, la más reciente versión del plugin, por lo que se solicita encarecidamente a los administradores de sitios web de WordPress que actualicen este plugin a la brevedad.
Las fallas de seguridad en plugins de WordPress son un problema cada vez más común, por lo que los administradores deben mantenerse al tanto de los más recientes reportes de seguridad relacionados con este CMS y las herramientas adicionales. Para más información sobre vulnerabilidades, exploits, variantes de malware, riesgos de ciberseguridad y cursos de seguridad de la información, no dude en ingresar al sitio web del Instituto Internacional de Seguridad Cibernética (IICS).
He is a cyber security and malware researcher. He studied Computer Science and started working as a cyber security analyst in 2006. He is actively working as an cyber security investigator. He also worked for different security companies. His everyday job includes researching about new cyber security incidents. Also he has deep level of knowledge in enterprise security implementation.