The National Security Agency of Montenegro (ANB), stated last Friday that "agencies belonging to Russia" have organized coordinated cyberattacks against Montenegrin government servers up to two times since August 22.
In the statement made to the media: "There are agencies belonging to Russia working in a coordinated manner that are behind the cyber attack. This is the first time such attacks have been detected, and it is an attack planned well in advance."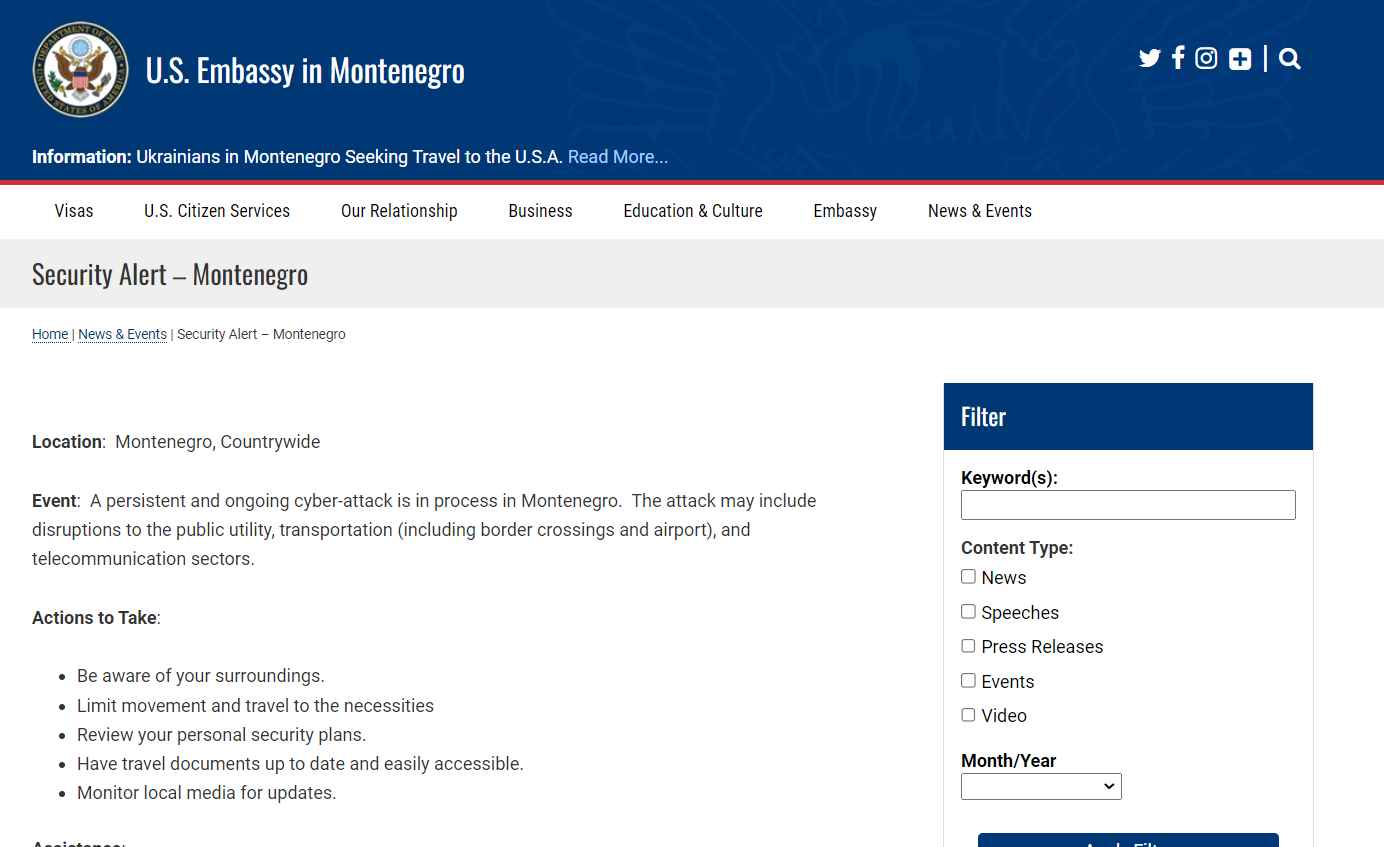 On August 22, the government reported the first detected attack directed at the servers and any type of damage had been avoided. Subsequently, the Minister of Public Administration reported that the authorities had taken the necessary defensive measures and that some servers had even been disconnected.
Prime Minister Dritan Abazovic called the cyberattacks dangerous and politically motivated, after which he called a session of the National Security Council on cyberattacks of Friday.
"Citizens' personal data is completely safe for now and all direct attacks on the government and its institutions have been suppressed. The first attack came a few hours after last week's vote of no confidence in the government, I have already warned that these measures could lead to political instability.
Prime Minister of Montenegro, Dritan Abazovic
These accusations are based on the fact that on March 7, Russia included Montenegro on a list of "enemy states" , accusing it of acting against the Kremlin. On March 1, Montenegro joined the European Union sanctions against Moscow, while the Foreign Ministry declared several Russian diplomats persona non grata on the advice of the National Security Agency. These types of attacks, typical of cyber warfare, seem increasingly frequent within the European framework since the European community imposed sanctions against Russia, so it is to be expected that we will continue to see episodes like this in the coming months.
Cyber Security Researcher. Information security specialist, currently working as risk infrastructure specialist & investigator.
He is a cyber-security researcher with over 18 years of experience. He has served with the Intelligence Agency as a Senior Intelligence Officer. He has also worked on the projects of Citrix and Google in deploying cyber security solutions. He has aided the government and many federal agencies in thwarting many cyber crimes. He has been writing for us in his free time since last 5 years.