Telegram is probably the fastest growing instant messaging tool today, all thanks to the focus on user privacy and that, unlike WhatsApp, does not share information with other platforms. This is not to say that it is impossible to find out things about other users of the application, as it is possible to use bots to collect all kinds of information and find out more about members of a chat group, moderators or any other user.
Most Telegram bots operate according to the OSINT scheme, which means that they base their searches on open sources, exploiting APIs from various Internet services such as social networks. Others use databases, although these sources of information are often outdated, not to mention that many databases are filtered due to cyberattacks.
This time, digital forensics specialists from the International Institute of Cyber Security (IICS) will show you the best Telegram bots for the collection of personal information. Please note that this article was prepared for informational purposes only, so IICS is not responsible for any misuse that may be given to this information.
Get Contact
This bot allows Telegram users to see how their phone number is recorded in other users' accounts. According to digital forensics experts, this information is obtained from mobile devices with the Get Contact app installed, so this feature will not yield results if the application is not installed on both devices.
In addition, a search by bot name on Telegram produces a couple of dozen results that differ from each other by one or a couple of letters (get_kontact_bott, get_kontakts_bot, etc.), apparently in the wake of the growing popularity of this project, so experts fear the appearance of some malicious versions.
Eye of God
Digital forensics specialists mention that this is one of the most popular Telegram bots. Eye of God has a very extensive set of functions, including username search, phone number search, car plate search and email address search.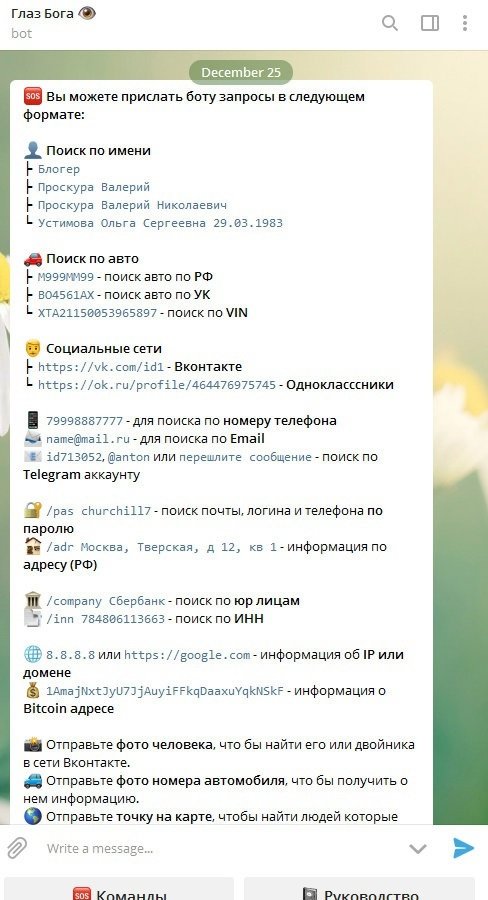 To send commands, your bot requires subscribing to its own channel, but even this does not guarantee the result. On the phone, Eye of God throws the name of the operator and his region, as well as a possible name. The information obtained by this tool may not be very difficult to search manually, but it certainly makes things easier for users.
AVinfo
This is a bot to check a car's history data by license plate, VIN, vehicle license plate number, full name or owner's phone number, which theoretically allows identifying any user. With this tool it is easy to identify the owner of the vehicle, placing his bucket in the supermarket parking lot. The bot's capabilities are quite broad and the price is relatively low.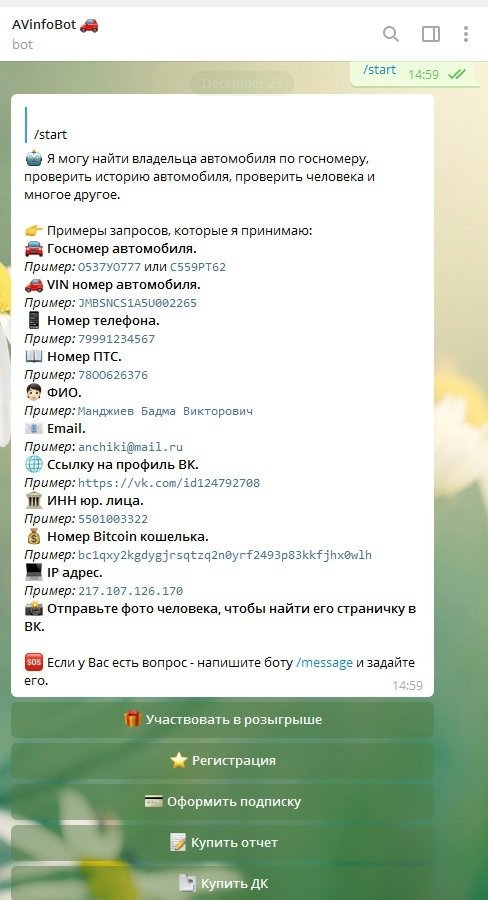 In general, the information collected by this bot is really useful in certain cases; although for most users this data may be little useful, digital forensics specialists mentioned.
SmartSearchBot
This is a pretty interesting bot that allows users to search for information from a phone number, email, license plate number or username on social networks.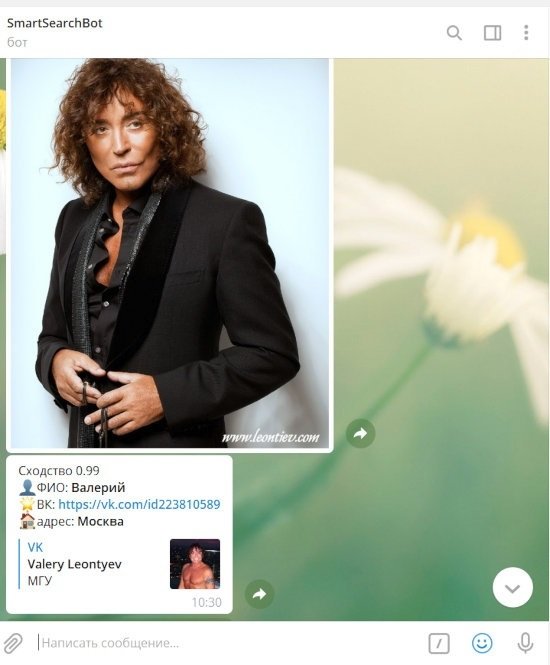 This tool allows you to make two search requests for free; users will then have to pay an annual subscription to access the full services, the digital forensics experts mention. SmartSearchBot performs detailed searches of the target user and usually yields more than acceptable results for stakeholders.
Quick_OSINT_bot
Digital forensics experts point out that the functions of this bot are very similar to those of SmartSearchBot, as both allow you to search by phone number, license plate number, passport or usernames. In addition, this bot has the peculiarity of searching databases using only one email address.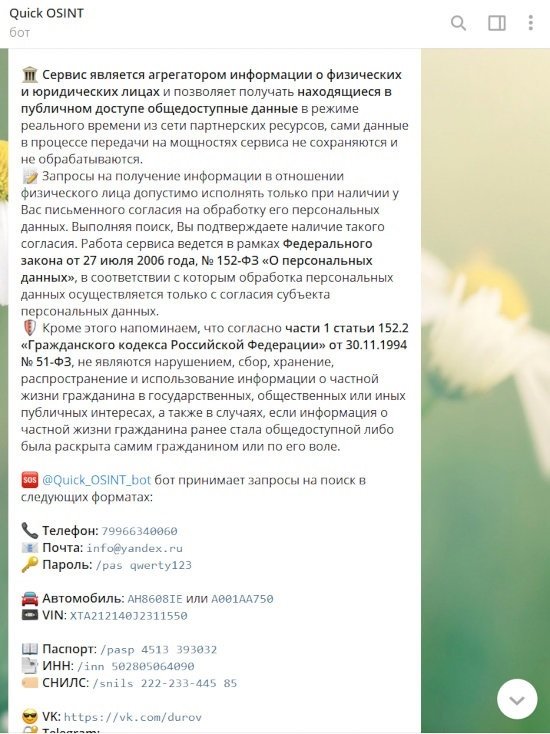 A disadvantage of this tool is that sometimes it does not correctly find phone numbers, since it only delivers the region key of the mobile operator and the name with which the number is registered. Still, the bot allows you to execute multiple requests at no cost per day, although eventually the bot shows a fee that the user will have to pay to subscribe.
Himera
This tool allows you to carry out advanced searches based on names, phone numbers, license plate number, email address and even city of residence. Himera users can also find information about the nearest criminal record, marital status, and family members of the user in question.
Users who have had contact with this tool ensure that you can find all kinds of information, mainly from people within Russian territory, plus it offers access to results in a free version and a paid version.
This bot can be ideal for verifying the identity of employees, collaborators, business partners, or potential crime suspects.
TeleSINT
This is a free bot that allows users to search for other people using information as limited as a nickname, digital forensics specialists say. This information may be useful under certain circumstances, beyond the collection of conventional information.
On the other hand, one disadvantage of this bot is that it shows user participation only in open public groups, but closed public pages are outside their field of view.
Archangel
This bot was actively advertised in September 2020 on multiple hacking forums. It is rumored to be connected to the Solaris analysis system used by professional pentesters. Archangel's database allows you to search for data by full name, series and passport number and year of birth.
At the moment this tool is in maintenance, although its administrators have not announced an approximate date for their return.
GetFB
The bot works very simply, as it only requires the mobile phone number entered in the international format (+ 7XXXAAABBCC). GetFB finds any Facebook page registered for this phone and requests are completely free.
Mailsearchbot
This bot can search for passwords and email addresses in filtered databases. According to digital forensics experts, the bot displays only a portion of the passwords detected in the databases in its free version, providing the opportunity to access a paid version.
These tools are very powerful and can help employers find criminal records of potential employees, as well as detailed profiles of a specific user, so they must be used with responsibility.
To learn more about information security risks, malware variants, vulnerabilities and information technologies, feel free to access the International Institute of Cyber Security (IICS) websites.
He is a cyber security and malware researcher. He studied Computer Science and started working as a cyber security analyst in 2006. He is actively working as an cyber security investigator. He also worked for different security companies. His everyday job includes researching about new cyber security incidents. Also he has deep level of knowledge in enterprise security implementation.