Ferrari has admitted to being the victim of a data hack and an extortion demand. The threat actors may have obtained client names, addresses, email addresses, and phone numbers, according to the firm's note to customers, which is copied below. There is no evidence that consumer financial information or business intellectual property was taken.
"As a matter of principle, Ferrari will not be held to ransom since paying such demands fuels criminal activity and allows threat actors to continue their attacks," Ferrari declared in a news statement. According to a source familiar with the situation, Ferrari never responded to the threat actors at all. According to the source, the demand gave Ferrari till March 21st to pay. Instead, on March 21, Ferrari made the position and demand public.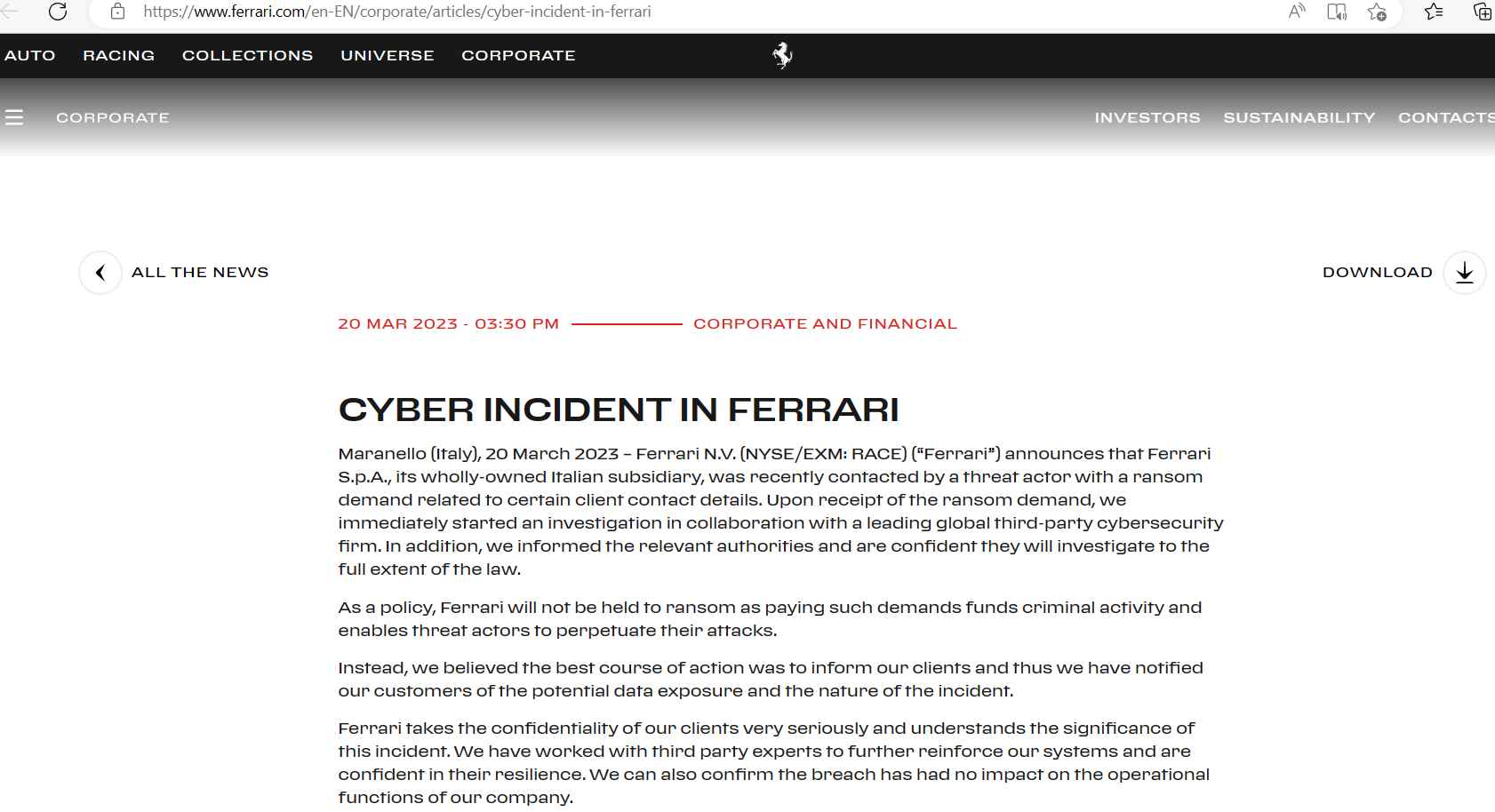 This event has been classified as a ransomware attack by many websites. According to the same source, no locker or ransomware was engaged. It was an exfiltration hack with an extortion demand. The insider could not say with sure how the threat actors obtained access, but he did say that this event had nothing to do with a prior Ferrari problem. According to Reuters, Ferrari has already been indirectly impacted by ransomware, citing a 2021 incident in which the Everest ransomware organization successfully targeted Speroni, a components supplier for Ferrari, Lamborghini, and Maserati.
According to the insider, the first ransom demand was $1 million, but the data may have already been transferred to another threat actor for a lower price.
On Sunday, the ransomware organization RansomEXX claimed to have stolen 7 GB of data from the firm through its leak site. Contracts, invoices, internal corporate information, maintenance manuals, and other papers are purportedly among those taken.
Ferrari said in emails to consumers that the compromised information includes their name, address, email address, and phone number. There is no indication that financial information or data on owned or ordered vehicles have been compromised, according to the business.
With Ferrari boasting one of the world's most costly automobile lines, a contact list of rich consumers is particularly appealing to fraudsters and might allow them to send hostile, targeted emails.
Ferrari said that the hack had no influence on the company's operating activities and that it has worked with "third party specialists" to improve the security of its systems.
Information security specialist, currently working as risk infrastructure specialist & investigator.
15 years of experience in risk and control process, security audit support, business continuity design and support, workgroup management and information security standards.